Born November 28, 1953, some say Preston Pittman was hatched on Thanksgiving Day.
Pittman can't remember the first time he was introduced to the great outdoors; but he can remember the tale "that at the age of four months, on a creek bank, they flipped a water snake out of the makeshift apple crate bed." He was raised in the woods hunting and fishing, and still looks forward to every outing.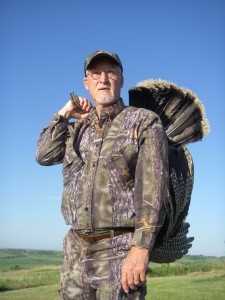 At 16, Pittman won his first turkey calling championship. When asked, "How did this affect you," he commented, "I was small growing up, had asthma and chronic nose bleeds; so I couldn't compete in most sports. I fell in love with God's greatest gift, the outdoors. When I won that first contest, it did something to me. Not only was I good at it, but I fell in love with a sport that was right up my alley – turkey calling."
Pittman continued to win and place in so many contests that it's hard to remember them all. Some include: The World Turkey Calling Contest, The World Natural Voice Turkey Calling Contest, World Two Man Team Turkey Calling Contest, The World Gobbling Turkey Calling Contest, and The World All Call Turkey Calling Contest. He is the only person to hold five different world titles. Other wins include: seven National Championships, nine National Champ of Champs, U.S. Gobbling Champion, Grand National Gobbling Champion and Grand National Champ of Champs.
Pittman has competed less in the past few years, but still gets in a few contests now and then. More recent wins are: 2000 Grand National Champion of Champions, 2001Grand National Gobbling Championship, 2002 World Gobbling Championship, 2002 Mississippi State Championship, and 2003 Grand National Gobbling Championship. His latest award is one of his greatest. In 2008, he was inducted into the National Outdoor Hall of Fame. When asked about retiring, Pittman comments, "One day … maybe???"
He has been featured in outdoor hunting magazines including Outdoor Life, Field and Stream, Sports Afield, Southern Outdoors, Turkey Call, Peterson's Hunting, Turkey and Turkey Hunting, Buckmaster, Deer and Deer Hunting, and many more. He has also appeared on The Tonight Show with Jay Leno, David Letterman, The Daily Show, Regis and Kelly, Country Fried Videos, TNN Celebrity Outdoors, America's Funniest People, Real People, Hunting the Country TNN, Remington Country, Mississippi Outdoors, Magnolia Adventures, Adventure Boundand Point Blank. Pittman is also currently appearing, dressed in Longleaf Camo, in advertisements on the Versa channel.
Pittman has hunted across the United States and was the first person to document a Double Grand Slam (two turkeys of each of the four major sub species of the American Wild Turkey) in one year. He is on many Pro and Adversity staffs, such as Longleaf Camo, Muzzy, Delta and Scent Lok.
"I'm just a country boy producing a product that I believe in and know works, not only in the woods but also on the stage," says Pittman. "After all, our saying is 'From the Back Woods to the Top of the World.'"
Your questions and comments about Pittman Game Calls are always welcomed.